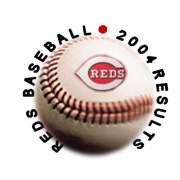 | | | |
| --- | --- | --- |
| Game 17 | Reds 1, UTEK 0 | August 15, 2004 |
The Reds have won games during the 2004 season in many different ways. Sunday was probably the strangest. with the Reds leading 1-0 in the second, one of UTEK's players went down with an injury, leaving only eight players. UTEK elected to forfeit the game rather than play with eight, giving the Reds the win. Combined with Moorestown's rainout, the Reds pulled within half-a-game of the Wolfpack for first place in USOTB Southwest. With league president Bob Delihant electing to complete the 18-game season this coming week, a Reds' win over visiting Margate coupled with a Wolfpack loss will give the Reds the division. The Reds already have fourth place overall in the South clinched along with a first round bye.
---
| | | |
| --- | --- | --- |
| Game 18 | Reds 8, Margate 4 | August 22, 2004 |
Pete DiLorenzo knocked in three runs on two hits and Brad Zerbe picked up his team leading seventh win as the Reds won their regular season finale 8-4 over visiting Margate. The Reds scored three in both the third and fourth innings, which is all Zerbe would need. He pitched seven innings, giving up five hits and one earned run (4 K, 0 BB). Mark Kraus went 3-4 while Jason Silver went 2-4. The win combined with Moorestown's victory places the Reds in fourth place overall in the South. They face the winner of Ventnor/Lower Twp in Ventnor on Sunday, August 29 in the first of a best-of-three series. Game time is approximately 12 noon.
---