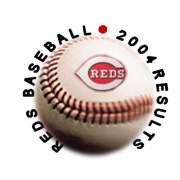 | | | |
| --- | --- | --- |
| Game 5 | Reds 6, Marlins 3 | May 16, 2004 |
The Reds defeated the Lower Township Marlins 6-3 on Sunday, pushing their record to 5-0 in 2004. George Lovett blasted a two-run homer to right field in the fifth inning, erasing a 3-2 Marlins' lead. Lovett then pitched three scoreless frames to setup Mark Kraus, who pitched the ninth to earn his second save. Lovett's clout made a winner of Brad Zerbe (3-0), who started and pitched five innings. The Reds travel to Buena next weekend for a key doubleheader versus division rival UTEK.
---
Game 6/7
UTEK 14, Reds 1 (Gm1)
Reds 14, UTEK 3 (Gm2)
May 23, 2004
The Reds rebounded from their first loss of the season by defeating UTEK 14-3 in the backend of a doubleheader on Sunday. The Reds launched five homers in the game, including two by catcher John Biasi. Bob McGeehan got the scoring starting with a two-run homer in the second. Biasi (3-3, 6 RBI) and Christian Banfer then connected in the bottom of the fifth to break open a close game. George Lovett (2-0) was the beneficiary of the scoring, cruising through six innings, scattering seven hits and striking out six. Darin D'Andrea contributed by going 3-3 with a home run and four RBI's. The Reds dropped the first game to UTEK, 14-1, as the team was limited to just five hits. Brad Zerbe (3-1) absorbed the loss. The Reds stand at 6-1 at the Memorial Day break, tied for first with the Moorestown Wolfpack.
---
| | | |
| --- | --- | --- |
| Game 8 | Reds 17, Universal 0 | June 6, 2004 |
Pete DiLorenzo hit an opposite field grand slam in the third inning, all part of an eight- run inning, as the Reds easily defeated Universal Supply 17-0. George Lovett (3-0) got the win, throwing five effective innings, allowing five hits while striking out eight. Run scoring singles by Jason Silver, Mark Kraus, and Bill Kohut staked the Reds to a 4-0 lead before DiLorenzo (3-5, 4 RBI) launched his first homer of the year to left center. The Redsí second slam of the day, by Silver (3-4, 5 RBI) in the seventh, closed out the scoring.
---