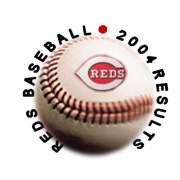 | | | |
| --- | --- | --- |
| Game 13 | Wolfpack 13, Reds 9 | July 11, 2004 |
The Reds dropped a half game out of first place in USOTB Southwest by losing to the Moorestown Wolfpack 13-9. The Reds got off to a great start when George Lovett ripped a first inning homer to give the visitors a 1-0 lead. But Moorestown scored three in the first, three in the second, and two in the third to build an 8-4 lead they would not relinquish. Brad Zerbe took the loss to drop to 5-2.
---
| | | |
| --- | --- | --- |
| Game 14 | Reds 18, Phillies 3 | July 25, 2004 |
The Reds responsed from their loss to Moorestown by soundly thumping the Pennsboro Phillies 12-3. George Lovett continued his excellent season by going 5-6 with two doubles and a triple. Mark Kraus returned to action and went 3-4 with a pair of doubles while Bob McGeehan contributed four RBI's on the afternoon. Brad Zerbe picked up the win with five innings of work (3 ER, 3 K, 0 BB). The win sets up a showdown with Margate next week, in a rematch of last season's South Finals, followed by a season ending doubleheader versus Moorestown in two weeks.
---
Game 15/16
Reds 5, Wolfpack 2 (Gm1)
Wolfpack 13, Reds 10 (Gm2)
August 8, 2004
The Reds used a four-run first inning, highlighted by Christian Banfer's two-run triple, to defeat the first place Wolfpack 5-2 in the first game of a doubleheader. George Lovett pitched a complete game to run his record to 6-0. He struck out six. In the nightcap, the Reds appeared ready to take over sole possession of first place, taking a 7-2 lead after just two innings. Banfer banged another two-run triple while Pete DiLorenzo (2-3, 3 RBI) and Lovett (2-4, 3 runs) paced the offense. But Moorestown battled back to salvage a split and remain in first place in USOTB Southwest. The final week of the regular season will have the Reds making up their July 18 rain out versus UTEK. A win clinches at least fourth place overall in the South and a first round bye.
---