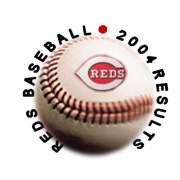 | | | |
| --- | --- | --- |
| Game 9 | Reds 12, Cardinals 1 | June 13, 2004 |
The Reds made it eight wins in nine games on Sunday by defeating the South Jersey Cardinals 12-1. Brad Zerbe picked up his fourth win of the season by throwing five innings. He allowed one run on five hits and did not walk a batter. The Cardinals were not nearly as efficient. Wrapped around 16 bases on balls, the Reds got three RBI's apiece from Bob McGeehan (2-5) and George Lovett (2-2, 3 walks). Pete DiLorenzo stayed red hot going 2-2 with two RBI's and three walks. The Reds finish the season series versus the Cardinals a perfect 3-0.
---
| | | |
| --- | --- | --- |
| Game 10 | Reds 9, Point Thunder 0 | June 20, 2004 |
The Point Thunder came into Sunday's game as the only undefeated team in the South. They left Sunday's matchup versus the Reds with their first loss. In a potential preview of the South Finals, the Reds came away with a 9-0 victory. The visitors took a 1-0 lead in the fourth when John Biasi tripled and Christian Banfer singled him in. That score stood until the top of the ninth, when the Reds exploded for eight runs. A safety squeeze by Mark Kraus plated the first run of the inning. Consecutive doubles by Bob McGeehan, George Lovett, and Darin D'Andrea resulted in five more runs to ice the game. The trio of Brad Zerbe (2 IP, 2 H, 2 K), Kraus (2 IP, 2 K), and Lovett (5 IP, 3 H, 6 K) combined to pitch the shutout.
---
Game 11/12
Reds 8, Giants 0 (Gm1)
Reds 10, Giants 5 (Gm2)
June 27, 2004
After a intense win over the Point Thunder and with the July 4th weekend on the horizon, a letdown seemed in order as the Reds met the Trenton Giants in a doubleheader. The Reds swept away any such ideas as they took a pair from their division counterparts 8-0 and 10-5. George Lovett continued his fine season by throwing a complete game four-hitter (8 K's, 0 BB's) in the first game. Darin D'Andrea drove in four runs to lead the offense. In the nightcap, Bob McGeehan (3-4) and Pete DiLorenzo (3 RBI's) stroked back-to-back doubles to jump start the offense, which scored six times in the first. Brad Zerbe improved to 5-1 with a complete game of his own, striking out 13 and issuing just two walks. After a week off for July 4th, the Reds travel to Moorestown for a key divisional game versus the Wolfpack.
---