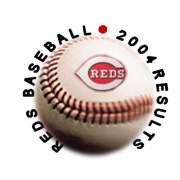 | | | |
| --- | --- | --- |
| Game 1 | Reds 13, Phillies 10 | April 18, 2004 |
The Collingswood Reds rallied for seven runs in the eighth inning to erase a Pennsboro 9-6 lead in an exciting 13-10 opening day victory. Surprise reliever Bob McGeehan picked up the win with two innings of work, his first USOTB victory. The Reds had assumed a comfortable 6-3 lead as the game went to the seventh inning, when the Phils erupted for six runs to take a 9-6 lead. The Reds then responded with a seven spot in the bottom half of the eighth to cap off a wild day of baseball. Ray Rose (2 2B's) and John Biasi each went 3-5 to pace the 13-hit attack. Mark Kraus pitched the ninth to record his first save of the season.
---
| | | |
| --- | --- | --- |
| Game 2 | Reds 6, Cardinals 1 | April 25, 2004 |
Tim Goldschmidt's seventh inning two-run single broke a 1-1 tie, propelling the Reds to a 6-1 victory over the SJ Cardinals. The two teams traded runs in the third inning before the Reds provided late game heroics for the second straight week. Brad Zerbe made his USOTB debut a successful one, pitching six strong innings to earn the victory. Jay Silver contributed to the offensive attack with two RBI's on the afternoon. George Lovett and Mark Kraus combined for three scoreless innings to secure the victory.
---
| | | |
| --- | --- | --- |
| Game 3 | Reds 19, Giants 4 | May 2, 2004 |
The Reds exploded for eight runs in the second inning, erasing an early 2-0 deficit, on their way to crushing the Trenton Giants 19-4. Pete DiLorenzo highlighted the inning with a two-run triple, his first of two on the day. Third baseman Darin D'Andrea ripped a two-run homer also in the inning. Jay Silver went 3-4 with a homer and drove in four runs while Ray Rose chipped in with four hits and three runs scored. Brad Zerbe started and recorded the win for the second straight week, as the Reds improved to 3-0.
---
| | | |
| --- | --- | --- |
| Game 4 | Reds 14, Cardinals 4 | May 9, 2004 |
The Reds continued their early season offensive barrage, this time at the expense of the South Jersey Cardinals. The 14-4 victory was their fourth straight to open the season. The Reds were less than hospitable to former teammate Len Mecca, who allowed 10 runs in the first three innings. Darin D'Andrea and Bob McGeehan each drove in three runs to lead the attack. D'Andrea rapped out three hits while McGeehan had two, including a solo homer. Mark Kraus went 2-3 with three runs scored. George Lovett notched his first win of the year with three scoreless innings of relief.
---