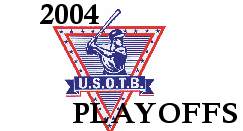 | | | |
| --- | --- | --- |
| Game 19 | Reds 15, Ventnor 5 | August 29, 2004 |
The Collingswood Reds spotted the Ventnor Dodgers a 5-1 lead after two-and-one half innings, then roared back with five runs in the bottom of the third to take a 6-5 lead en route to a 15-5 opening victory in the best-of-three Quarter Final series. Key hits by Ray Rose and Mark Kraus sparked the rally. Kraus finished 4-6 with six RBI. Also contributing on offense were Bob McGeehan (3-5, 4 runs) and Darin D'Andrea (4-5, 3 RBI). John Biasi's three-run homer in the seventh closed the door on the pesky Dodgers. George Lovett shook off a rocky start to throw seven innings in earning the win (10 K, 1 BB). Game Two (and Three if necessary) is scheduled at Haddon Twp. on Sunday, September 12.
---
| | | |
| --- | --- | --- |
| Game 20 | Reds 11, Ventnor 3 | September 12, 2004 |
The Reds advanced to the South Semi-Finals by sweeping the Ventnor Dodgers with an 11-3 win on Sunday. Mark Kraus homered for the second straight week to lead the offense. Kraus also logged four innings (4 IP, 4 H, 4 K) to earn a save in relief of Brad Zerbe. Zerbe picked up his first career playoff win with five solid innings of his own (5 H, 2 ER, 4 K). Pete DiLorenzo doubled, tripled, and drove in three runs. The win sets up a meeting with divisional rival Moorestown, the top seed in the South. The scheduled doubleheader is set to begin at 9AM in Moorestown.
---
Game 21/22
Wolfpack 11, Reds 10 (Gm1)
Reds 12, Wolfpack 11, 10 inn. (Gm2)
September 19, 2004
The Reds rebounded from a first game loss by edging the Moorestown Wolfpack 12-11 in 10 innings to force a Game Three this Sunday. The win capped off a spirited day of USOTB baseball which saw the two teams combine for 44 runs and 56 hits in the doubleheader. George Lovett came up big in Game Two by throwing all 10 innings, striking out 17 in the process. A Ray Rose fielder's choice with the infield drawn in and runners at second and third plated the game winner. Bob McGeehan (4-6, HR), Pete DiLorenzo (4-6, 2B, 3B), and Rose (3-5) all turned in big second games for the Reds. Game One proved to be just as exciting, as five runs in the top of the ninth pulled the Reds within one, but they could not push the tying run across. Mark Kraus went 3-4, homering for the third straight game. The winner of Sunday's game meets the Point/Margate winner for the South crown.
---