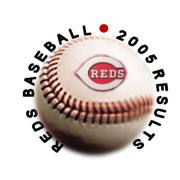 | | | |
| --- | --- | --- |
| Game 16 | Ventnor 4, Reds 1 | August 7, 2005 |
This summer has been characterized by wet weather, but no could have imagined the type of precipitation the Reds experienced on Sunday. Trailing 4-1 in the bottom of the sixth, sprinklers at Rohrer Field came on and halted play. Field conditions deteriorated quickly, resulting in a sprinkler-shortened loss to Ventnor. The loss dropped the Reds to 9-7 on the season. The final weekend has the Reds traveling to Mercer County College to take on the South Central Division leader, the Point Thunder. The Thunder sit at 14-1 and hold the top spot overall in USOTB South.
---
Game 17/18
Thunder 6, Reds 4 (Gm1)
Reds 6, Thunder 3 (Gm2)
August 14, 2005
The Reds took the second game of their regular season-ending doubleheader versus the Point Thunder by a score of 6-3, clinching the eight seed for the 2005 playoffs. George Lovett earned the victory and Sean Agin homered for the winners. The Reds dropped the first game by a score of 6-4. With the split, the Reds will host the Manahawkin Royals (10-6, nine seed) on Sunday at 9am. The winner plays top seed Pigs Heaven Heard in the first game of a best-of-three series beginning at approximately 12:30pm. Both games are at Haddon Twp.
---