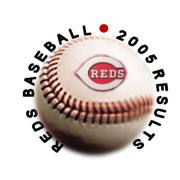 Game 11/12
Reds 5, UTEK 3 (Gm1)
Reds 5, UTEK 4 (Gm2)
July 10, 2005
Jay Silver's two-run single in the bottom of the seventh culminated a three-run rally enabling the Reds to defeat UTEK 5-4 and sweep their doubleheader matchup. Silver finished the game with two hits, while Sean Agin went 3-4 and Jim Bruno 3-3 in the nightcap. In Game One, the Reds jumped to a 5-0 lead after three innings and then turned things over to ace George Lovett. Lovett pitched a complete game, nine-hitter, striking out nine batters in the 5-3 victory. Sean Agin again led the offense with three hits. Ray Rose went 2-3 with two RBI. The Reds hope to build on their momentum in next week's home game versus Ventnor.
---
Game 13/14
Reds 11, Phillies 5 (Gm1)
Reds 6, Phillies 1 (Gm2)
July 24, 2005
The Reds exploded for nine runs in the fourth inning, on their way to an 11-5 victory over Pennsboro in the first of two games on Sunday. The second game featured George Lovett striking out seven Phillies over six innings an 6-1 win and sweep of the doubleheader. The nine-run fourth inning erased a Pennsboro 4-2 lead and earned Brad Zerbe his second win of the year. Bob McGeehan went 3-5 with five RBI in the rout. In the nightcap, McGeehan (3-4, including his 300th career hit) and John Biasi (3-4, 2 RBI) supplied Lovett with enough offense to complete the Reds' sweep and improve their record to 9-5. Margate looms next week as the stretch run continues for Collingswood.
---
| | | |
| --- | --- | --- |
| Game 15 | Margate 7, Reds 6 | July 31, 2005 |
Margate pushed a run across in the bottom of the ninth inning, breaking a 6-6 tie, in a 7-6 victory over the visiting Reds. The Reds had tied the game in their half of the ninth on John Sawn's RBI single. Margate jumped to 4-1 lead after five innings before the Reds struck for four in the sixth, highlighted by a Pete DiLorenzo homer, to go ahead 5-4. But Margate would tally single runs in the seventh and eighth to again take the lead before the decisive ninth. George Lovett started and pitched a complete game in taking the loss. The Reds look to bounce back at home versus Ventnor next week.
---